Behind every Little Library popping up in Penticton, there begins a wonderful story. It all starts with a book-loving resident who simply wants to share a love of reading with others. A plan is hatched to construct a little wooden 'building' for their books to be displayed at the edge of the property. And the adventure begins.
These books are offered for free on a "take a book, leave a book" system. They can be returned or passed on, although donations are always gratefully received. This trend began in the U.S. and caught on in recent years in Penticton, with some of them charted on this Little Free Library virtual map. But their list does not include all.  
In fact, according to our bookworm sleuths, Penticton is now home to at least  17 little libraries. Here is a list of those we have seen so far. Share it with your friends and family and help spread the word.
Penticton Community Centre 
Sometimes it takes a community to raise a Little Library. This story begins with the Beyond Words book club, who applied for grant funding and worked with local high schools to build the structure and stock its shelves. The library is made from wood from an apple crate donated by Mattison Farms, representing our community's agricultural heritage. Following bouts of vandalism outside City Hall, the library now has a new home outside the Penticton Community Centre. Feel free to take a book – and leave a book in its place. And thank you to all the community members who made this possible. 
580 Braid Street
The owners started operating a little library in 2014 with a simple cardboard box out front of their home. Today, their much-loved spot is a local favourite filled with charm, featuring a continuously cycled stock of books. They even have a bench out front where you can sit an enjoy the serenity, labelled: "Read. Relax."
168 Ponderosa Place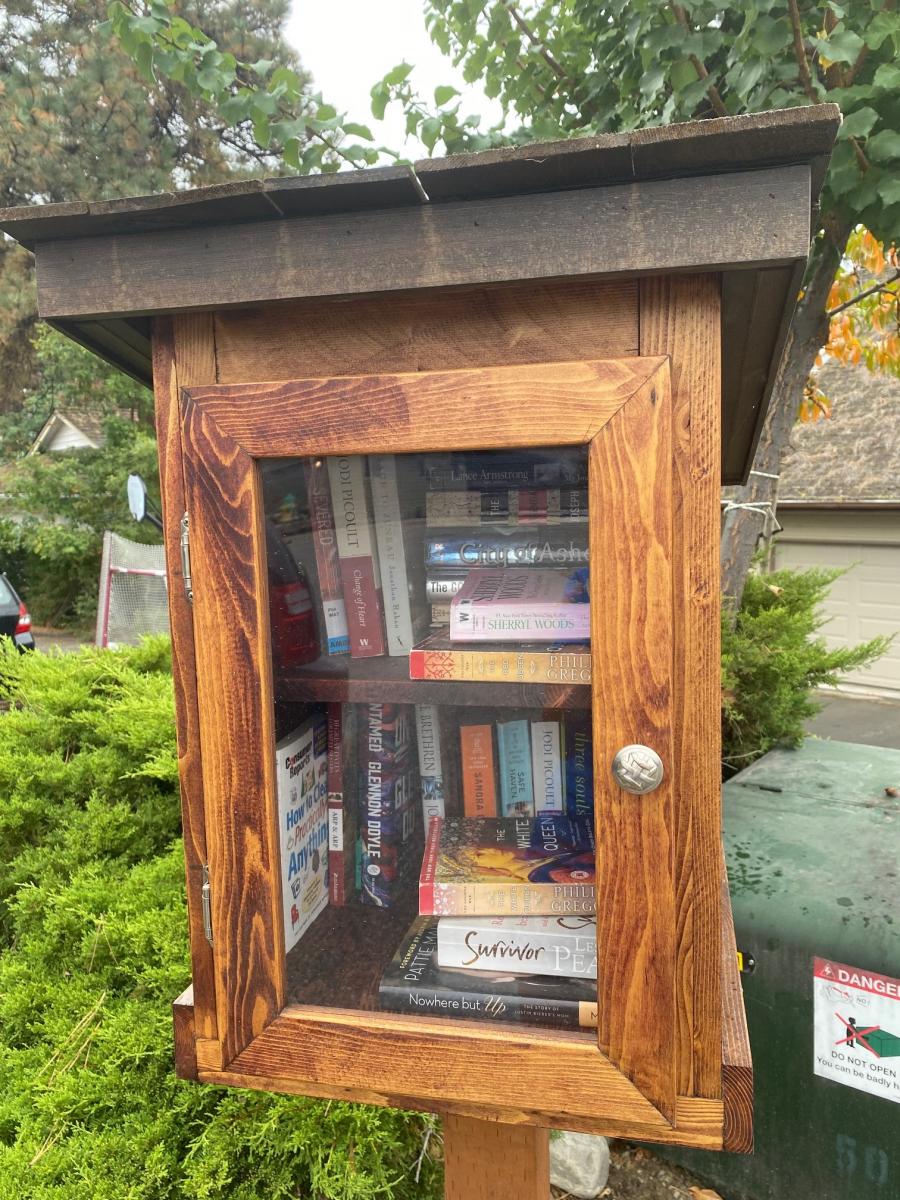 Nestled in a quiet cul-de-sac in Wiltse, this little library was built by owner Karla Ziegler's "wonderful father-in-law" for her birthday.
"It is so special to me because it was handmade just for me and I get to share our love for reading," she said. "We love to read and always have books on the go. I normally don't read a book twice and try to pass on the books I finish. I have always wanted to have a free library to encourage reading and the trading of books."
238 Douglas Avenue - "Ollie's Lending Library"
Oliver Barker (pictured), who was just four years old at the time, made the news back in 2020 as the proud owner of 'Ollie's Lending Library.' He and his dad Josh constructed the free library to create a library that specializes in kids' books, says mom Amanda Mitchell.
"Ollie is a huge book lover so this is something he is very proud of," she explained. "Since opening it up, it's been a huge success. People are really awesome at adding to it, anywhere from one book at a time to piles of books. I don't think we will ever have to worry about running out of books. It's a borrow, take or leave system. We don't expect people to leave a book if they want to take one."
2563 Evergreen Drive
If you're out for a walk along Evergreen heading toward the Wiltse trails, chances are you'll mosey past this little library. On warmer days, the homeowners are known for filling up a water dish out front of the property for local four-legged friends. And now, their cute wooden house is spreading even more cheer. In case you're wondering, the sticky note pictured reads: "Happy Thanksgiving! Think of your many blessings. Smile and enjoy."
412 Conklin Avenue
This little library is said to be the first in Penticton, paving the way for others. Thank you! You'll notice they're a member of littlefreelibrary.org, of which there are a few members in Penticton so far. During our recent visit, we spied many great books behind the glass case, including some Jodi Picoult and Margaret Atwood. And while you're there, pop across the street for …
403 Conklin Avenue
Shaded by a tree with some inviting tire swings, this little green house offers a collection of novels worth perusing. As noted above, it's just a few steps across the street from another little library, offering plenty of reading options.
765 Toronto Avenue
This little wooden house has an adorable shingle roof and is fully stocked with books for borrowing.
Penticton Safety Village, 90 Edmonton Ave
A member of the Kiwanis Club of Penticton wrote to us to let us know about this new location. You'll find it outside the Penticton Safety Village, with a special section for younger readers. Thank you to the Kiwanis Club!
Kiwanis Court, 360 Brunswick St.
The Kiwanis Club of Penticton also built this new little library location on Brunswick Street. Thank you again to the Club.
1604 West Bench Drive (at West Bench Elementary)
This addition is thanks to Pen High student Myles, who built this little library in his woodworking class with teacher Kevin Bond and some classmates, according to this Penticton Western News article. It has been installed outside the elementary school near the flag pole.
'Books at the Barn' - Green Mountain Road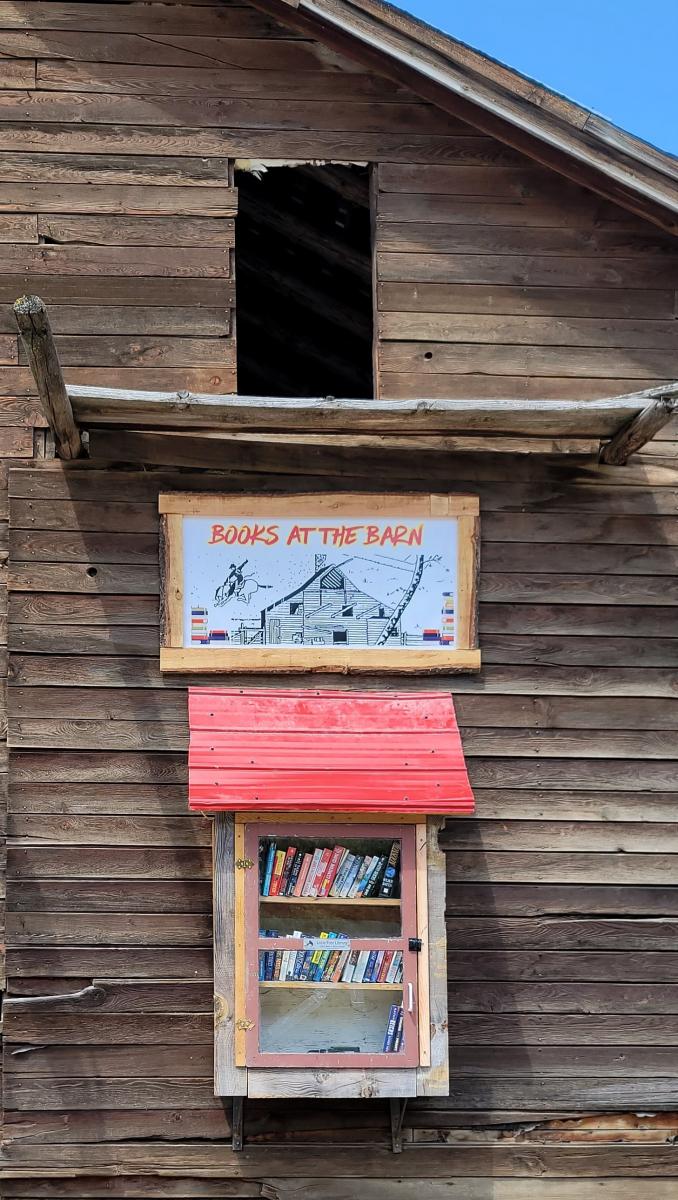 This cute little library is one to photograph, located on the front of this barn on Green Mountain Road. Named "Books at the Barn," the owner wrote us to let us know that this location is all stocked up and looking forward to book lovers exchanging free books. Do you recognize this barn? Apparently its 22 km west of Penticton on Green Mountain Road, so part of the fun apparently is discovering its location! 
Near 191 Dewdney Crescent
This is a lovely little library on a pleasant corner, complete with a bench, a tiny children's sharing garden and a chalkboard where people can write positive messages. It often has more than the usual thriller novels. On a good day you might find a Booker or Pulitzer Prize winner or some quality non-fiction.
140 Craig Drive 
Thank you to the owner of this little library, who recently notified us of this new entry to the list. 
153 Bennett Avenue 
Word on the street is this popular little library has a high turnover and often holds great treasures. You may wish to add it to your dog-walking route on a future adventure. 
692 Vancouver Avenue
When you see the colourful painted hands on the side of this tiny house, you know you've arrived. This addition to Vancouver Hill is fairly new to the area, so stop by and your walks with the family and feed it with your favourite books to keep the excitement going. 
126 Middle Bench Road North 
Also one of the newer little libraries to be added to this list, and the first that we know of in this area, this "Little Yellow Library" is registered with LittleFreeLibrary.org.
To all of the owners and creators, thank you! 
Did we miss one? Send us your information and a photo and we'll add it to our list! Email communications@penticton.ca.