Hurray for flushing toilets! And electricity, running water, garbage pickup and traffic lights. These are all services we rely upon every day – and yet, pay little thought to the people who work behind the scenes to make it all possible.
This Love Local blog post, which wraps up National Public Works Week, profiles some of the people who spend their days – and sometimes nights – to make sure everything is operating safely and smoothly.
Electrical
Meet Eric Ryan, a Powerline Technician who has been working with the City for the past four years.
"We keep the lights on," he says. "We install and upgrade power equipment and keep the citizens supplied with power – and we fix anything that goes wrong."
If the power goes out, he's one of the crew called out to get things going again, often in the wee hours and battling stormy weather. They work on low- and high-voltage power lines, ranging from 120 to 12,000 volts.
The City's electrical service is provided to nearly 20,000 customers (17,686 residential and 1,983 commercial). It includes: 
4 substations
4,005 power poles
380 km of overhead power lines
193 km of underground cables
3,505 street lights
40 traffic signals
Water Treatment Plant
When you turn on the taps, do you ever wonder where that water comes from? For Rob Phillips, Operator III at the Water Treatment Plant, it's what he cares about most.
He and the team busily work behind the scenes tracking calculations and making adjustments to make sure safe, potable water leaves the plant. Poor water quality, as history has shown, can cause illness and even death.
"It's important because we're responsible for providing safe drinking water for the residents of Penticton," he says.
Rob has been working for the City for 14 years, having previously worked as a mechanic. He retrained at Okanagan College, which has a renowned water treatment course. In fact, he says the plant has hired at least eight graduates from the course as well as summer students.
Water facts:
Here in the Okanagan, there is less water available per person than anywhere in Canada. Unfortunately, we also have one of the highest rates of water use per person in the country. Conservation efforts are crucial to protect this limited resource.
7 billion litres of water is pulled from Okanagan Lake and Penticton Creek each year, which is treated at the Penticton Water Treatment Plant. That's enough to fill around 2,500 Olympic-size pools.
19.4 million litres / day is required for average daily water demand.
Fleet
Pat Lantz has been working as a Fleet Mechanic with the City of Penticton for the past 11 years.
Thanks to him and his team, the City's fleet of equipment is keeping everything from trucks, Zambonis, RCMP vehicles, fire trucks and lawn mowers running smoothly. They also repair generators, including the water pump stations. They're also called out to the scene to make service calls.
"By keeping equipment maintained, we keep things going," he says.
They maintain and repair more than 450 pieces of equipment, including:
190 City fleet mobile units
120 City fleet small equipment
57 Regional District of Okanagan Similkameen fleet
27 licensed fleet and the small equipment fleet for the Penticton Fire Department
22 generators
36 RCMP fleet
Roads and Drainage
Safe roads and sidewalks are vital to our everyday lives. This is Trevor Cansdale, a Concrete Finisher Lead Hand, who works behind the scenes to make sure everything is as safe as possible.
He's been working for the City for the past 10 years. The Roads and Drainage team fill potholes, do maintenance, fix sidewalks, work on bike lanes, do snow removal, you name it.
"Everybody needs concrete and it needs to be done properly for everyone's safety," he says.
City infrastructure includes:
260 km of roads/lanes
161 km of sidewalks
256 km of water mains
94 km of storm water mains
172 km of sewer mains
Utilities
Every day on the job is an adventure for Derek Phillips. As a Foreman responsible for irrigation, dams and meters, he is often working in remote locations, trekking through snow and encountering all kinds of wildlife – from rattlesnakes to moose.
Thanks to him and his team, our six dams are monitored for safety, reservoirs are inspected, water supply is assessed and controlled, and agricultural crops receive sufficient water to grow their fruits and produce. This is a careful balancing act of monitoring snow melt and usage, conducting calculations, and controlling the flow rates out of Penticton and Ellis Creeks.
The team installs, repairs, maintains and inspects water meters for agricultural, residential, commercial and industrial properties. They're in the process of installing meters throughout the agricultural areas to track usage and consumption (as pictured). The team also monitors residential meters, and in the process, also has been known to discover water leaks in a home before the residents are aware of it.
"We will detect if there is unusual water consumption. It could be a leak, running toilet, dripping faucet or something you don't know about it. We can help troubleshoot how to fix it," he says.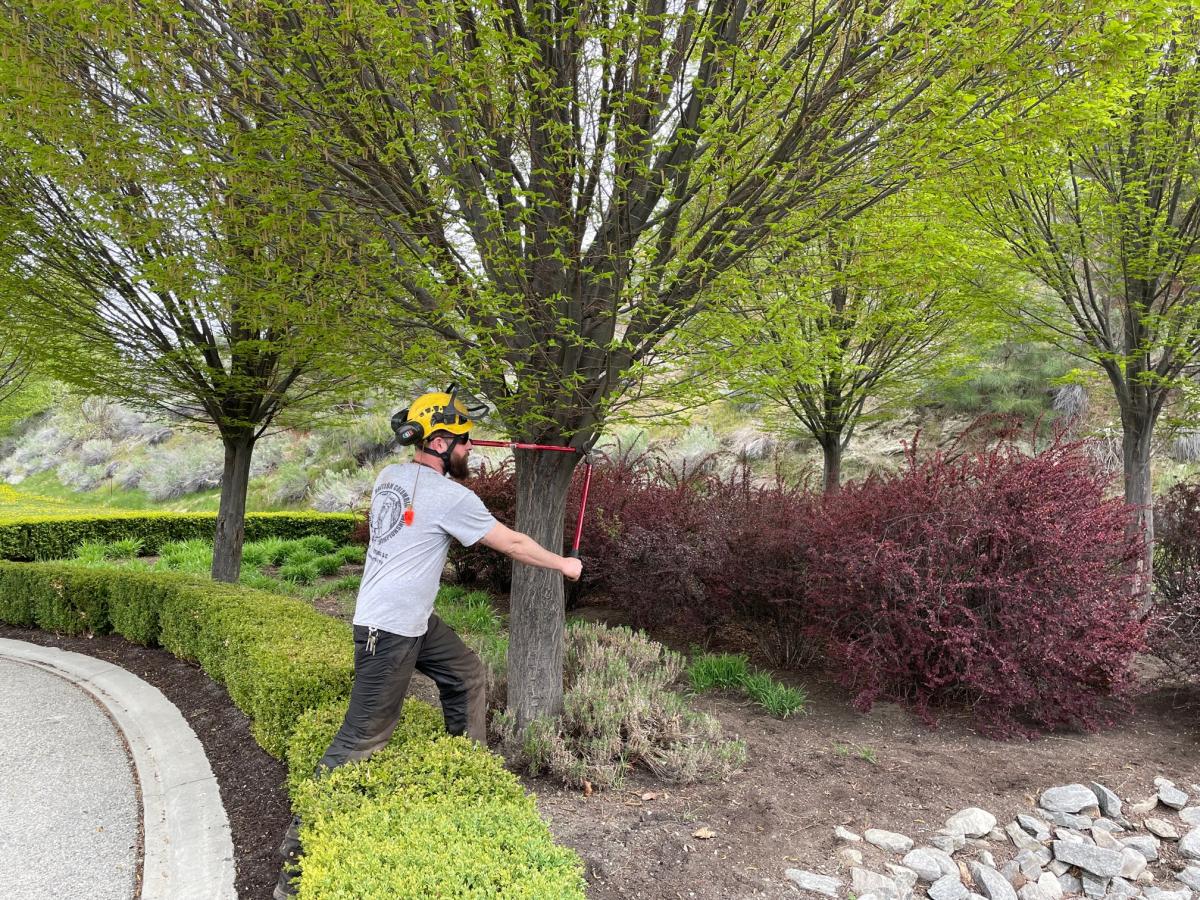 Parks
Josh Clausen is a Senior Arborist who works within the Urban Forestry team, responsible for "taking care of all things trees."
"If you like things like fresh air and clean water, trees are important," he says. "Studies also show that trees help control the temperature of our urban environment, and that more trees in an area equal happier people. It improves their quality of life."
While he has only been working for the City for 8 months, Josh has a long history in the business, first working with his arborist dad as a young teen. Daily tasks can be as small as installing beaver wire around trees to removing hazardous trees and planting new ones. Other jobs include pruning, trimming, diagnosing pest diseases and hazard pruning, such as taking out dead limbs over pathways.
The City is home to 6,700 inventoried trees within its parks and boulevards – and that's not even including those within the green belts.
The Parks crew overall is responsible for maintaining our green spaces, including 45 km of trails and walkways, 10 playgrounds and 16 sports fields.
Wastewater Treatment Plant
Did you know that almost half of the water you use in your homes ends up going down the drain, to be processed at one of the highest quality treatment facilities in Canada?
Story Kishineff-Cooper is a Plant Operator II at Penticton's Wastewater Treatment Plant, where he has worked for the past year. It's a Level 4 biological nutrient plant, processing the purest effluent that facilities can achieve.
"As an operator, our job is to make sure the facility and processes are working correctly," he says. This involves lab testing, checking machinery – both at the facility and the City's pump stations – and making adjustments when necessary."
Why is this facility – and the crew that maintain it – so important?
"It's crucial to maintain the water system around us, especially in the Okanagan," Story explains. "It's about protecting the ecosystem. Also, it's a matter of public safety."
By the numbers:
4,459,807m3 of wastewater received yearly
About half of the treated water consumed makes its way into the sewer system daily
331 litres/day discharged per person into the sewer system on average
Learn More
If you want to learn more about the City's Public Works department, visit our City Services page.