Construction of new homes is booming in Penticton, with a number of new developments in the works. This includes everything from rental housing communities and condo units to single-family homes.
It's been a busy start to 2021, with record construction values and a hot housing market fuelling demand for a range of new housing options.
The value of building permits issued to the end of April 2021 totalled $95,675,345, which was more than double from the same time period last year ($47,140,014). Also, so far this year, more residential units have been created than in previous years, with a total of 346 to the end of April – more than 50% higher than last year, at 223.
While demand for housing in Penticton is higher than ever, people are working hard to build new homes for a range of price brackets. The City is also focused on addressing the need for low-income housing (visit their Housing & Homelessness page for further details).
Take a peek at some of the major developments in the works right now.
New Homes Coming Soon
Mission Group Rental Community
This rental community at 285 Westminster is being built within the vibrant downtown district, just a few blocks away from Okanagan Lake. It's steps from restaurants, breweries, retail and lakefront activities.
Skaha Shores (High Street Living Rental Property)
Skaha Shores will be home to 180 rental suites across two buildings, all within a 100-metre dash of Skaha Lake. Community members will be able to enjoy an on-site fitness centre, community garden, dog run and community lounge with a rooftop patio.
WestUrban Developments
WestUrban is breaking ground on a new 166-unit building at 3352 Hemlock Street. It's located in a quiet neighbourhood, within walking distance to parks, beaches, shopping and other amenities. The upper floors will also have views of Skaha Lake.
Skaha Lake Towers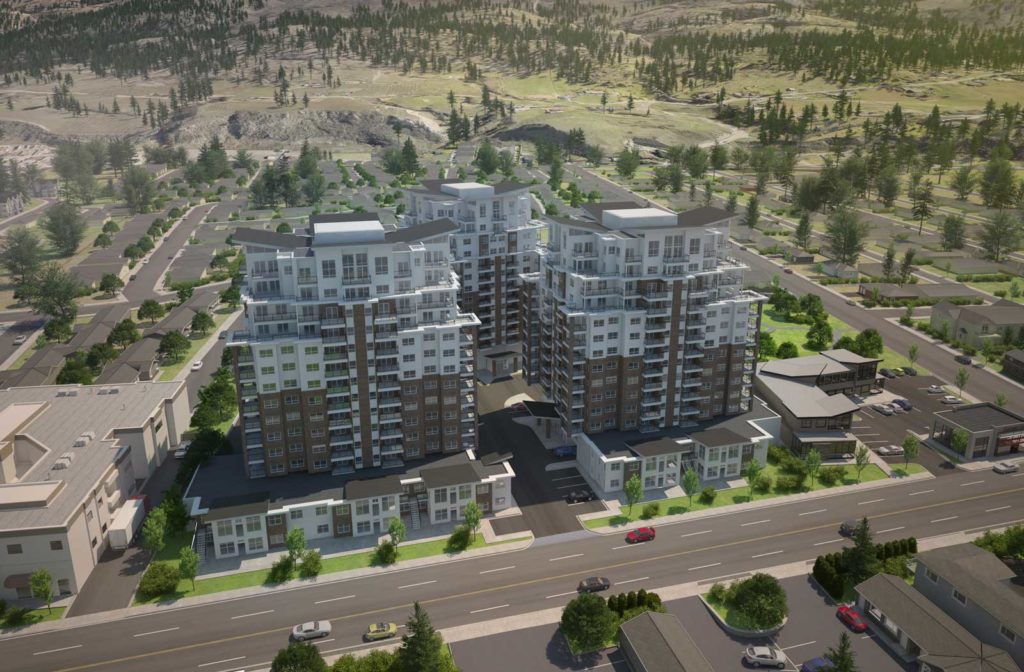 Skaha Lake Towers is located just two blocks from Skaha Lake, offering lake and mountain views. Phase Two, which is the newest tower, is now nearly sold out. Construction on Phase 3, the final tower, will start later this year, with occupancy planned for early 2023.
Riverside Penticton
These luxury townhomes are in the downtown riverside district, within steps of Okanagan Lake and the Channel. They offer fine interior finishes and all the lifestyle attributes of waterfront living.
Skaha Hills
This development above Skaha Lake offers a variety of new construction options ranging from townhouses to single-family homes catering to a variety of budgets including luxury homes.
The Vistas (pictured below) will be terraced rancher townhouses with a one-level living plan, spectacular views and large balconies.
The Bench homes feature luxury 3- and 4-bed homes, and The Park homes are geared toward young families or those looking to downsize, offering up to 1,600-square-foot, 3-bedroom ranchers.
The Ridge Penticton
Build your dream home, with mountain city or lake views. While the Phase One lots are now sold out, some house and lot packages remain, and Phase Two is set to launch later this summer. This Ridge home (pictured above) is featured as the Hometown Heroes Lottery's Penticton prize home.
The Bluffs at Skaha
Lots are now for sale in Phase One of this new development overlooking Skaha Lake. Their vision is to create a new residential community providing a variety of single- and multi-family homes with a unique wildland/urban interface. Expect stunning lake, mountain and bluff views.
Sendero Canyon
This new subdivision offers modern craftsman homes ranging in size and catering to a variety of price brackets. Floorplans vary and the area has an on-site playground, wilderness trail network and strong community feel with West Coast vibes. Sendero Canyon is now mostly complete, offering an attractive and established neighbourhood at higher elevations, yet within easy reach of the city.
Panorama View Estates
This new subdivision offers panoramic views of Skaha and Okanagan lakes. You'll notice interesting rooflines, expansive windows and texture-rich finishes encompassing a West Coast feel. With easily accessible nature trails, their goal is to provide residents with all the benefits of living in a contemporary community intermingled with all that nature has to offer.
Avery Heights / Brentview Developments
While their new Avery Heights subdivision in the desirable Wiltse neighbourhood is nearing completion, there may be some lots yet to be developed. They specialize in modern custom homes ranging from townhouses to middle- and high-end single-family homes.
Schoenne Homes
Visit their website to learn more about projects on Abbott Street, located just a couple of blocks from downtown and the beach at Okanagan Lake. This includes townhouses with high-end finishes.
Chase Valley
Their latest development includes duplex properties in the heart of the city, on Government Street. They include a garage and spacious open plan living areas with contemporary design. The master suite features their signature bedroom balcony with full height glazed doors leading to a private covered patio.
Newer Rental Housing Developments
Many new and existing rental options exist for single working individuals and families with low to moderate incomes. This includes BC Housing's The Rise Nanaimo Building, which offers 56 units of affordable housing, for people between the ages of 20 to 45.
BC Housing also provides rental supplements and other housing supports for those meeting low income thresholds. Contact BC Housing for more information and to learn more about the various options.
The Penticton and District and Society for Community Living operates the Backstreet Apartments, which are newly constructed bachelor, one- and two-bedroom units downtown as well as many other residential units through the community.
More Developments Coming …
BC Housing has announced it will be creating a new rental housing project at 603 Main Street, with 28 homes for families, in partnership with M'Akola Housing Society.
Further development projects are currently at the planning or permitting stages. This includes more rental properties, townhouses, duplexes, condos and single-family homes.
Do you know of a development or new subdivision not listed here? Tell us about it and we'll add it to the list!