Construction of new homes continues to boom in Penticton, with many new developments in the works. This includes everything from rental housing communities and condo units to single-family homes.
The Okanagan's hot housing market is fuelling demand for a range of new housing options for a range of price options. The City is also continuing its focus to address a need for low-income housing (visit their Housing & Homelessness page for further details).
The approximate existing and future house numbers include: 
520 residential units under construction
1,060 residential units approved
650 units in the development application process
Here are the major developments either proposed, in planning stages or being built right now. 
Apartments, Condos and Townhouses
Mission Group Rental Community
This rental community at 285 Westminster is being built within the vibrant downtown district, just a few blocks away from Okanagan Lake. It's steps from restaurants, breweries, retail and lakefront activities.
WestUrban Developments
WestUrban is building a new 166-unit building at 3352 Hemlock Street. It's located in a quiet neighbourhood, within walking distance to parks, beaches, shopping and other amenities. The upper floors will also have views of Skaha Lake.
3240 Skaha Lake Road
This development will include 54 units for recovery focused supportive housing. 
1034 Churchill Avenue 
This four-storey building will include 13 units.     
Skaha Lake Towers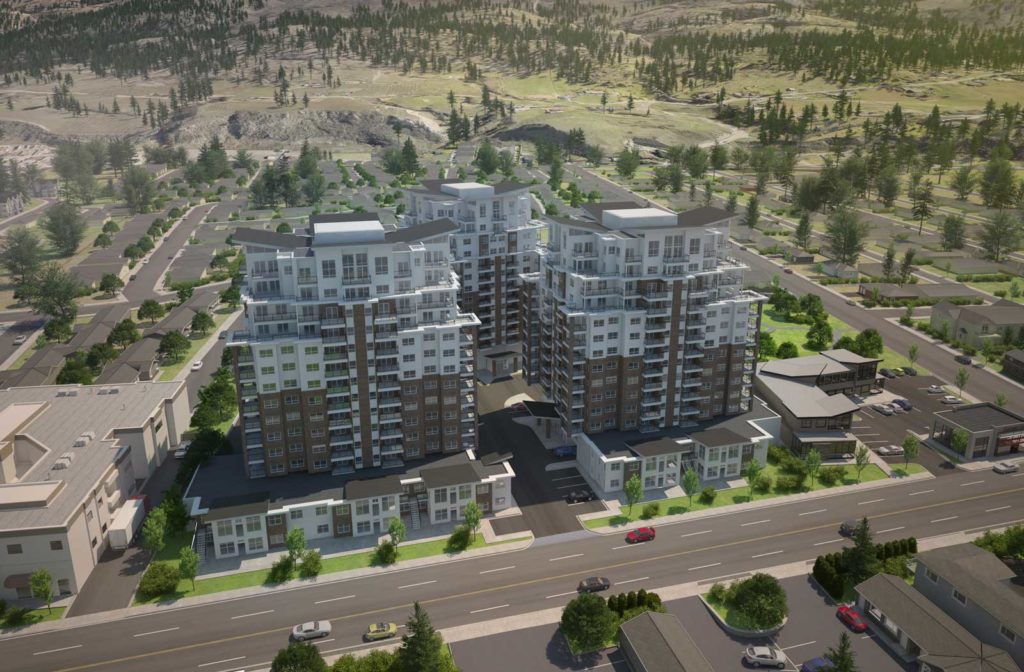 Skaha Lake Towers is located just two blocks from Skaha Lake, offering lake and mountain views. Pre-sales of the Phase 3 tower (the final tower, at 3362 Skaha Lake Road) will be coming soon, offering 88 apartment units and 10 ground-floor garden suites.
The Ridge Penticton
While the Phase One lots are now sold out, some house and lot packages remain in Phase Two, with construction of 14 townhouses underway at 1830 Ridgedale Avenue. 
Others under construction 
726, 738 and 750 Westminster Avenue: 3 four-plex buildings 
784 Argyle: 11 townhouses 
2644 South Main Street: 6 townhouse units  
253 Norton Street: 16 townhouses
909 Government Street: 4 townhouses
463 Wade Ave East: 4 townhouses
Approved but not yet under construction 
435 Green Avenue: Zoning for 88 townhomes. 
795 Westminster Avenue: Zoning for 22 units with corner commercial. 
154 Brunswick Street: Zoning for a 6-storey, 30-unit residential strata building.
955 Timmins Street: 148 apartment units and 71 townhomes, including some rental housing for Okanagan College students.
 
Residential Neighbourhoods
The Bluffs at Skaha
This new development overlooking Skaha Lake includes 40 single-family lots. Their vision is to create a new residential community providing a variety of single- and multi-family homes with a unique wildland/urban interface. Expect stunning lake, mountain and bluff views.
850 Wiltse Boulevard
This project is approved but construction has not yet begun. It will include 700 units of mixed housing, including large and small lot single family areas, duplex, townhouse and apartment units.
157 Abbott Street 
12 residential lots.
Proposed Developments
The City has received applications for approximately 650 apartments and residential lots. Here is a selection of the applications that are currently being considered and are not yet approved. 
877 Westminster Avenue: The former El Rancho Motor Inn is proposed to be redeveloped to include 300 units of strata rental with some ground floor commercial space (artist rendering pictured above).
603 Main Street: BC Housing is proposing this 5-storey rental housing development, with 28 homes for families and ground floor commercial space.
655 Ellis Street: The City has received an application to develop a three-storey, 16-unit apartment building at 655 Ellis Street. The site is currently a vacant parking lot and is located in the City's downtown near many amenities. 
650 Eckhardt Avenue: 6 storey, mixed use building with ground floor commercial and 70 units of upper floor residential.
206 Marina Way: 10 storey building with 99 stratified residential units. 
914 Churchill Avenue: 6 storey, 16 unit residential.
770 Argyle St: 5 duplex buildings.