Wake up on the right side of the lake. Every day. You too can live a dream lifestyle filled with long sunny days, two lakes, sandy beaches, world-class trails and mountains waiting to be explored.
Feel the sand between your toes and the laptop at your fingertips. Your daily commute is short and your 'me time' is long. Say goodbye to traffic jams and the daily rat race.
Penticton's lakeside lifestyle is appealing to a growing number of young families, remote workers, entrepreneurs and new business owners. Many are migrating from Greater Vancouver and Calgary, attracted to Penticton's lower cost of living and idyllic way of life.
This is the Penticton Advantage.
Four-season playground
Once, Penticton was known as a place where people went for vacation. Today, professionals are choosing to move to their 'happy place' for a better pace of life. And the South Okanagan is a four-season playground, with amazing water sports, skiing, snowshoeing, biking, hiking, rock climbing, sports activities and so much more.
You're connected by road or air
Getting to your clients is easy, with easy access by road or air. Penticton Airport (YYF) is your ideal choice for flying to and from the South Okanagan. It's quicker and closer to everything this year-round playground has to offer.
No traffic jams
Average commute? Less than 10 minutes.
Two lakes to choose from
Penticton is one of just two cities in the world situated between two lakes (Skaha and Okanagan). This includes 7 public beaches, one of which (Skaha) was recently named among the best in Canada by Chatelaine Magazine.
You can explore wine country
Choose from the 88+ wineries within 20 minutes of the city.
It's the craft beer capital
That's right. Penticton is home to 7 craft breweries and was recently named the craft beer capital of Canada, according to Lonely Planet.
Entrepreneurial spirit
Penticton has a robust community of remote workers and entrepreneurs. You can work from home, a local café or at a coworking office space. With access to superfast fibre optic speeds, Penticton has the infrastructure you need to stay globally competitive.
Eat local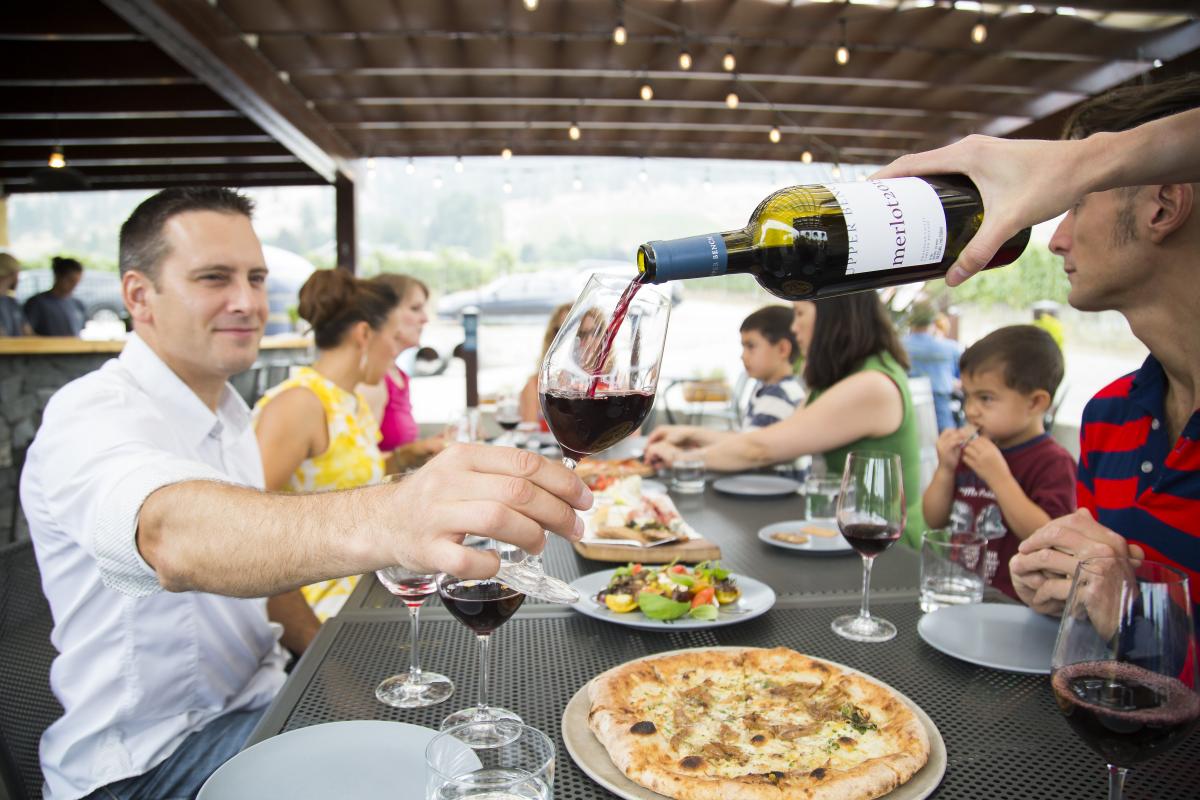 Penticton has deep roots in agriculture, from peaches to vineyards and everything in between. Our appreciate for good food is attracting world-class chefs, with amazing cuisine. We're also home to one of the largest outdoor farmers' and community markets in Canada.
World-class sporting events
With our long sunny days and just 15 inches of rain each year, Penticton is known for its long training season. It's home to world-class endurance training events, including the original IRONMAN Canada route.
Incredible trails and parks
Leave the car at home and simply step outdoors to explore the trails and parks. Among the highlights is the Kettle Valley Rail Trail, with 120 km of hiking and biking in Penticton alone.
Average summer temperature: 30C
Lay out those beach towels.
Live music and events
There's no need to travel far to catch a live event. Check out the 5,000-seat South Okanagan Event Centre, not to mention smaller venues throughout the community (on hold during COVID, but we're holding out for their return).
And so much more...
That's the Penticton Advantage.
Follow Start Here Penticton on social
@StartHerePenticton
@StartHerePenticton
@StartPenticton
@StartHerePenticton